Join me on a path of homestead living. Decades of personal experience, formal learning, and tips from excellent mentors have contributed to my courses. I want to share with you plans to build your own homestead life, from growing food, raising livestock and the enriching natural crafts that are calling out to you.
So whether you are here for the first course in natural dye and wool products, learning handcraft skills from the past or want to learn how to care for your livestock while staying true to your budget and property, join me. We will have fun on the path to a rewarding sustainable natural life.
The first course scheduled in the Timber Creek Farm School is Natural Dyes on Wool and will be available in April 2021. Learn everything you need to know about natural dyeing wool from beginning to end. From the basic steps of natural dyeing to color creation using recipes from easy to find foods, flowers, and weeds. Color outside of the lines and make a beautiful mess!! Stay tuned!!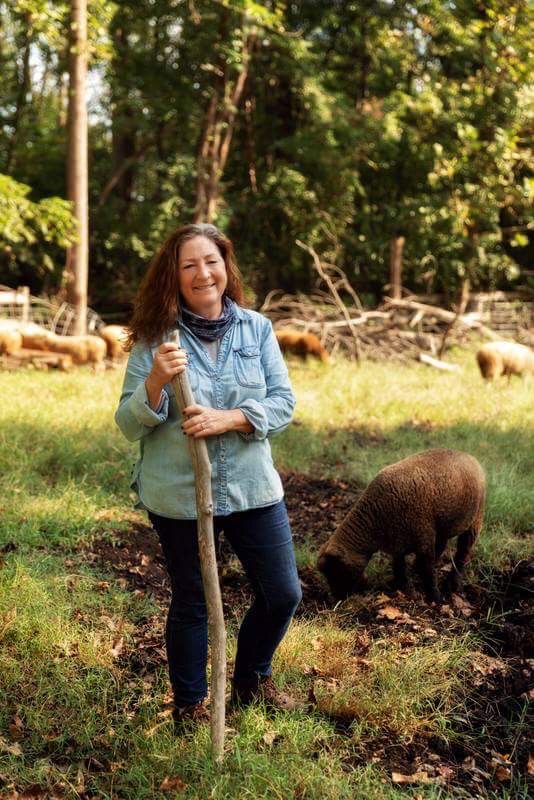 We raise our own fiber animals on our farm in Maryland and send the raw fleeces to a local mill to be processed and spun into yarn. Several years ago, I dreamt of offering all naturally dyed yarn and fiber to complement our natural color, home grown wools for sale on our website and Etsy shop. After being introduced to natural dyes about ten years back, I added color goals to my dreams. But not just any colors. Our flock is raised as naturally as possible, hence the name of our yarn – Free Range Yarn!
The colors had to match our determination to live naturally. Between taking workshops, and taking risks, I have come up with my own methods for creating and using natural dyes on wool. I love to take the scientific requirements and add the artistic elements.
The barnyard is home to sheep, goats, chickens, ducks and occasionally some species that we raise for meat. We have raised cattle and hogs in the past years. Our quest was to live and care for this land the best that we can. It's always a learning experience even after the decades of time we have invested here.
We enjoy sharing what we love and motivating and encouraging other homesteaders. I have written several books filled with the experiences and skills that fill our days. Now, I have courses that give me another avenue to share the bounty of living a natural, sustainable life on the homestead.
Enroll in the Natural Dyes on Wool with Timber Creek Farm Course Below
Everything you need to know about simple beginner dyes for wool yarn.